The National Data Warehouse for Traffic Information (NDW) has carried out pilots with several partners to gather traffic data based on data from mobile systems such as Floating Car Data and data from mobile phones. The emphasis of the pilots was on Origin and Destination study. The pilots show that the data from these studies is useful in many situations for carrying out traffic analysis and policy processes.
ARS T&TT is one of the partners who contributed to the pilots on the Ring Amsterdam, Rijksweg 10. This road is one of the main links in the (main) road network of the Dutch province of North Holland. The Ring connects many highways and is used by road users with destinations throughout the Netherlands. The urban roads in Amsterdam also connect to the Ring, so the A10 has an important function for traffic leaving the city of Amsterdam as well. For this reason, it is important to understand the composition of traffic in this area and how this traffic behaves.
The Ring has two functions:
A connection between links, so ongoing traffic is present on the Ring
Start or end of the journey through which Amsterdam can be reached and traffic can depart from Amsterdam.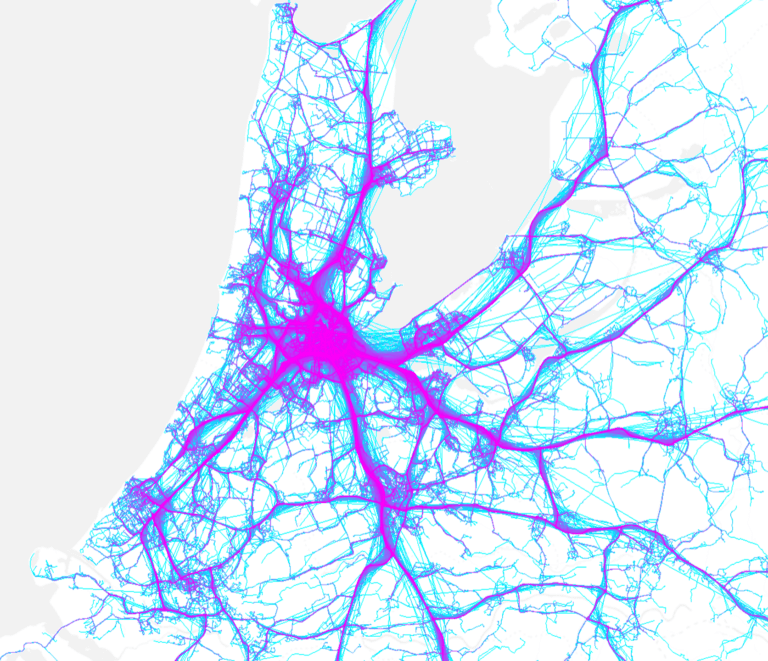 It is also possible that the A10 is the preferred route for road users to move within the city of Amsterdam. By analyzing Floating Car Data, this question can be answered.

During the pilot on the A10, Floating Car Data from INRIX was loaded into the Traffic Data Warehouse from ARS T&TT with which automatic Origin Destination analysis has been performed. ARS T&TT will continue to innovate in the field of Floating Car Data because it's clear that with the increase of the number of connected vehicles the usability of this type of information will greatly increase. Floating Car Data can be used to obtain traffic information, carry out traffic analysis and to apply this data to traffic management.